Dead Like Me
/10
0%
Comedy
Drama
Sci-Fi & Fantasy
2003-06-27
45m
Tags: Country: US languages: en Production: John Masius Productions
Dead Like Me follows a group of undead grim reapers tasked with shepherding the recently departed into the afterlife.
Where to Watch "
Dead Like Me

"
Season 0
1 Episodes
Air Date: 2009-02-17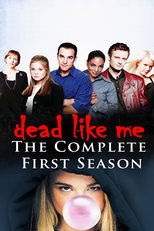 Season 1
14 Episodes
Air Date: 2003-06-27
College dropout, Georgia "George" Lass is suddenly killed by a toilet seat that falls from the MIR space station. After discovering life after death, she is recruited for a team of grim reapers who walk the earth collecting people's souls before they die.
Season 2
15 Episodes
Air Date: 2004-07-25