Halt and Catch Fire
/10
0%
Drama
2014-06-01
44m
Tags: Country: US languages: en Production: AMC Networks
Set in the early 1980s, and about a fictional visionary, an engineer and a prodigy whose innovations confronts the corporate behemoths of the time. Their personal and professional partnership will be challenged by greed and ego while charting the changing culture in Texas' Silicon Prairie.
Where to Watch "
Halt and Catch Fire

"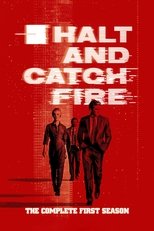 Season 1
10 Episodes
Air Date: 2014-06-01
In 1983, personal computing was anyone's game. Navigating the thin line between visionary and fraud, genius and delusion, an unlikely trio - a visionary, an engineer, and a prodigy - take personal and professional risks in the race to build a computer that will change the world as they know it. The battle for CTRL begins.
Season 2
10 Episodes
Air Date: 2015-05-31
Joe, Gordon, and Bosworth are caught up in their own "online" wave while attempting to heal old wounds. This season explores the thin line that separates genius from self-delusion and the desire to leave a meaningful mark on the world.
Season 3
10 Episodes
Air Date: 2016-08-23
Season 3 returns six months after the move from Texas as each character faces new challenges trying to find their place in this new environment. Cameron and Donna hunt for an idea that will launch Mutiny as a key player. Gordon struggles to find a place within his wife's company. Joe continues to build upon his empire, reinventing himself which ultimately sends him back into the lives of his old partners.
Season 4
10 Episodes
Air Date: 2017-08-19