Penny Dreadful
/10
0%
Drama
Mystery
2014-05-11
60m
Tags: Country: US languages: en Production: Neal Street Productions, Desert Wolf Productions
Some of literature's most terrifying characters, including Dr. Frankenstein, Dorian Gray, and iconic figures from the novel Dracula are lurking in the darkest corners of Victorian London. Penny Dreadful is a frightening psychological thriller that weaves together these classic horror origin stories into a new adult drama.
Where to Watch "
Penny Dreadful

"
Season 1
8 Episodes
Air Date: 2014-05-11
Explorer Sir Malcolm Murray, American gunslinger Ethan Chandler, and others unite to combat supernatural threats in Victorian London.
Season 2
10 Episodes
Air Date: 2015-05-03
This season, Vanessa Ives and her allies find themselves locked in epic battle against an unholy evil that will arouse every forbidden instinct, unlock every secret and turn every sin of their past against them. But how do you fight the most wicked enemy, when the price of victory could be your own damnation?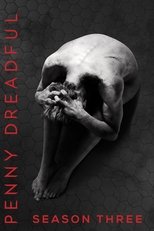 Season 3
9 Episodes
Air Date: 2016-05-01